At Oak RMS we understand how important air conditioning is to you, your staff and your customers. Our systems are designed with consideration of not only the above factors but also include:-.
Draft effect
Air distribution patterns to ensure minimal hot spots
Noise and position of machinery
Service route layout and future maintenance accessibility
Appearance of equipment within internal controlled area
Flexibility of system control
Energy usage
Life cycle costs
All of our system loads are calculated using specialist computer driven modelling software, by ensuring the correct machinery is selected minimises energy usage, machinery short cycling, temperature swing and drafts.
After service and maintenance are very important to ensure your system remains operational throughout the complete yearly cycle. At Oak we offer a range of maintenance schemes to suit all sizes of installations. Keeping your equipment regularly maintained not only ensures stable operation and temperature control but also ensures that your extended guarantee which is supplied and offered by most equipment providers remains valid.
Due to the high efficiency provided by our heat pump systems it is possible also to claim ECA (Enhanced Capital Allowances) where the systems provide heating and cooling. Only the high efficiency systems are ECA approved due to using very low energy inputs when compared to energy outputs.
Air Conditioning System Types
Several types of air conditioning systems are available which offer various solutions.  All of which can be supplied as cooling only systems or heat pump systems which provide heating and cooling. The system types are split into 3 groups comprising of:
Split systems are generally used in single offices, bedrooms or shops. These units are provided as a single outdoor which is piped to a matched indoor unit which can be of various configuration. Several sizes are available offering coverage from 10m2 to 100m2. Where large areas require conditioning and space for external (outdoor) units permits several systems can be installed and wired to communicate thus allowing one temperature within the space to be maintained.
Multisplits are similar to split systems although several indoor units can be connected to one off outdoor unit. Generally multi splits are used where external unit space is at a premium or noise of external plant is a major factor as only one fan is present on the external unit. Duty is limited to approx 100 m2 per external unit although these systems are ideal for small office complex layouts, bedrooms or small hotels
VRV systems are used on larger installations where 10 to 30 indoor units are connected to one outdoor unit. A complex communication system is provided allowing control of each fan coil if desired from a central control module or PC. Great flexibility is available allowing additional indoor coils to be added or removed as required from the system. The system is also very energy efficient and is able to recover heat from rooms requiring air conditioning and channel the heat to rooms require heating. This form of heat transfer works very well on building that have solar loads on different aspects at different times of the day in winter months.
Ideal locations for VRVs are very large houses, hotels and large office layouts.
Mitsubishi Electric's Partner Programme
Mitsubishi Electric are leading manufacturers of air conditioning and renewable solutions specifically designed to meet
the energy demands of today and beyond. The Mitsubishi Electric Partner Programme has been devised to forge a link
with partners within the industry to ensure customers receive the highest level of installation and after sales care.
As one of Mitsubishi Electric's Partners, we adhere to the strict criteria set out by the Partner Programme
to ensure our customers receive a professional service on which they can rely.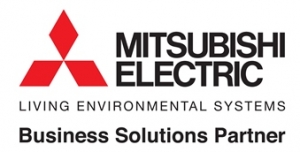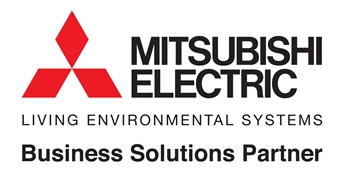 Various internal schemes are available which can be tailored to suit your building layout and configurations comprising of:-
Wall mounted units
Ducted units
Ceiling cassette units
Concealed casement units
Floor standing units
At Oak we have a dedicated design and installation team to ensure that which ever scheme you decide upon is installed and commissioned to meet the manufactures and our internal standards policy to provide efficient and trouble free operation.
Air conditioning pays an important role within our day to day life. Installing air conditioning allows users to create an environment that best suits the individual. Modern air conditioning units not only cool, heat and dehumidify the air they also clean the air. By installing air conditioning to generate the correct environment for yourself and your customers it makes you feel better, more active, fit and most importantly creative and productive.
It is a well know factor that at temperatures above +26 oC your performance falls dramatically this also has the same effect in temperatures below +20 oC. Modern air conditioning systems offer automatic control to enable a stable temperature controlled environment.
Air conditioning Performance graph